The High Country Area Agency on Aging is the regional Local Contact Agency (LCA), which provides options counseling to nursing home residents for community support options. The LCA coordinates and conducts these face to face conversations with the person residing in the facility, the facility point of contact and as appropriate, family members or other supports after a referral has been made by a skilled nursing facility. MDS 3.0 Section Q, requires facilities to make a referral when a person residing in a nursing facility indicates an interest in speaking to someone about the possibility of returning to the community. This referral does not guarantee the individual will return to the community, but provides them with a process to obtain additional information and resources in support of identifying the most appropriate residence for their care and wellbeing.
To begin the MDS 3.0 Referral process, nursing facilities should call 1-866-271-4894 (9:00 a.m. through 5:00 p.m., Monday through Friday) to submit Section Q referrals to trained call-center staff.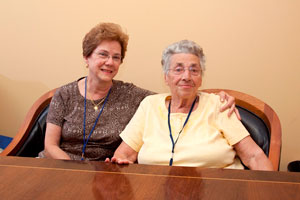 When submitting the referral, facilities will need to provide the following information:
Resident's name and phone contact information
Name of referring facility's contact, including:

Name of staff contact
Phone
Email
Name of facility
Facility address
County

Following the logic in Section Q, information about who (if anyone) assisted the resident in completing Section Q:

Family
Significant other
Guardian
Legally authorized representative
Other

Pay source
Date of admission
Date of birth
The facility will receive confirmation that the referral was made and forwarded to the appropriate entities, including the Local Contact Agency. Once notified, the LCA will assign an LCA Options Counselor and begin the options counseling process with the resident, appropriate family members, and facility.
Note: the MDS 3.0 Section Q referral process or LCA involvement does not otherwise change a facility's discharge planning responsibilities.
For additional information on the High Country Area Agency on Aging's role at the regional Local Contact Agency, contact Nicole Hiegl at 828-265-5434 ext. 122 or nhiegl@hccog.org.