Location:
102 West Main Street, Wilkesboro NC 28697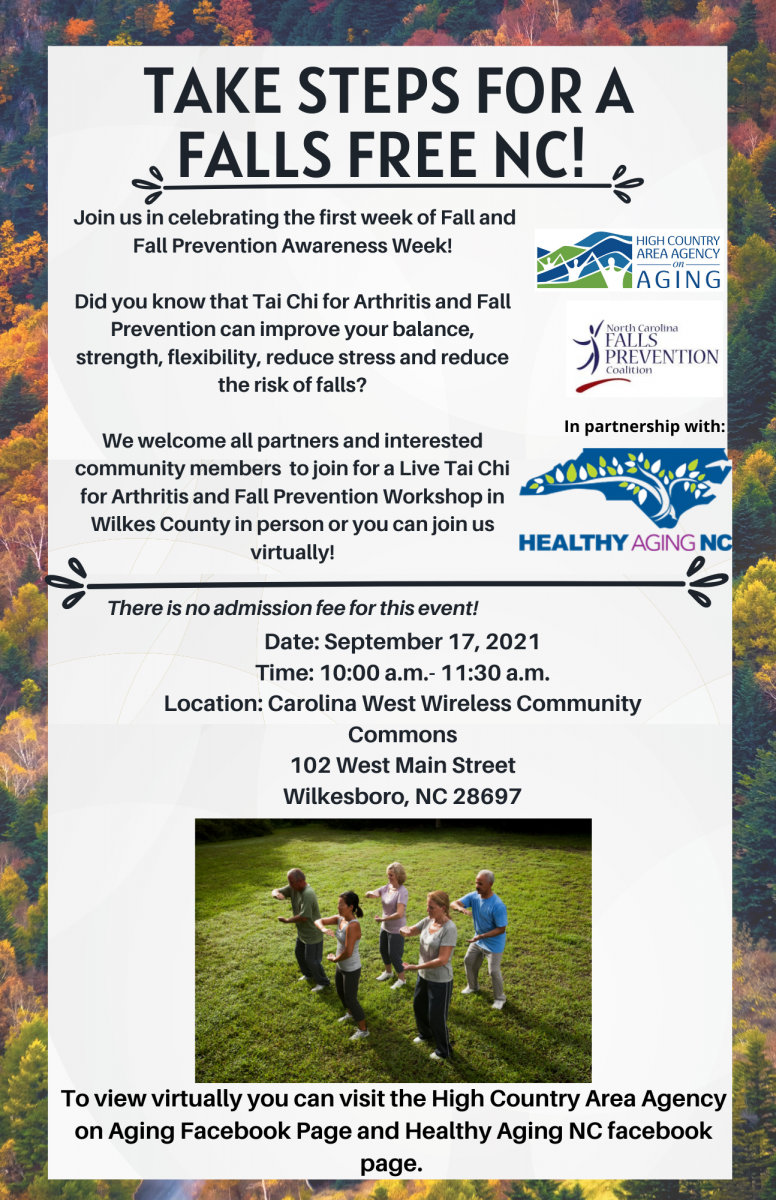 The coronavirus pandemic has changed a lot of things. One thing that's still the same? Falling is NOT a normal part of aging.
High Country Area Agency on Aging, along with Healthy Aging NC and the NC Falls Prevention Coalition, is committed to empowering all older adults in North Carolina to reduce their risk of falls, which are one of the greatest causes of serious injuries and death among people over age 65. On September 20-24, 2021, High Country is partnering with the National Council on Aging (NCOA) and the NC Falls Prevention Coalition to mark Falls Prevention Awareness Week with a special live Tai Chi Kick-Off event in Wilkesboro.
The High Country Area Agency on Aging in partnership with Healthy Aging NC and the North Carolina Fall Prevention Coalition are hosting a free Live Tai Chi Event in Wilkesboro on September 17th 2021 from 10:00 a.m.- 11:30 a.m. to kick-off Fall Prevention Awareness Week (September 20-24 2021). Tai Chi for Arthritis and Fall Prevention is one of the most popular Evidence Based Fall Prevention Programs offered in the High Country, this special Tai Chi Event is open to older adults across the State.  Older adults are welcome to attend in-person or virtually through Facebook. This special live event will be jam packed with information about how to reduce the risk of falls, resources that are available for older adults and attendees will learn and practice movements that benefit strength, balance, flexibility and reduce stress.