What is a Long-Term Care Ombudsman?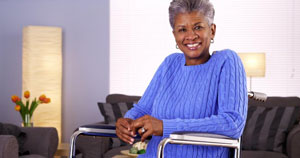 Ombudsman is a Norwegian word meaning advocate. The Regional Long-Term Care Ombudsman of the High Country serves as an advocate for residents in the region's long term care facilities. The ombudsman advocates ensuring that all resident's rights and quality of life established through the Resident's Bill of Rights are upheld. The Ombudsman Program was created out of the Older Americans Act and consists of a larger team throughout the state, regional and local levels of North Carolina.
What does a Long-Term Care Ombudsman do?
Visits and listens to needs of residents in nursing homes, adult care homes, and family care homes to ensure rights are being upheld
If a resident identifies a concern or issue that is not being properly addressed the ombudsman can take action, with resident consent, to address the issue to the residents' satisfaction. This can be done through a variety of techniques, including facilitating mediation between resident and the facility and negotiating on behalf of the residents' behalf
Speaks to resident and family councils about issues the residents face
Educates the community and public at large about issues facing long term care residents and older adults
Promotes elder abuse awareness and prevention activities in facilities and the community as whole
How do I contact my Long-Term Care Ombudsman?
Facilities are required to post ombudsman contact information and provide private phone access. Conversations with the ombudsman are kept confidential.
The Regional Long-Term Care Ombudsman covering Alleghany, Ashe, Avery, Mitchell, Watauga, Wilkes, and Yancey counties can be contacted by phone, email, or mail.
Stevie Welborn
Regional Ombudsman
468 New Market Blvd.
Boone, NC 28607
Phone: 828-265-5434 ext. 126
Toll Free: 866-219-3643
Email: swelborn@hccog.org
View a list of the regional long-term care facilities and the services they offer (PDF).
Community Advisory Committees
The Community Advisory Committee (CAC) is a group of appointed citizens that assist the Long-Term Care Ombudsman in advocating for the rights of long-term care residents. They are appointed by the county commissioners and are trained by the Long-Term Care Ombudsman. Community Advisory Committees play a vital role in linking residents to their communities.
Community Advisory Committees can be contacted to help address concerns with guidance from the ombudsman, discuss involvement with volunteer opportunities in facilities, and provide additional advocacy information.