"There are only four kinds of people in the world: Those who have been caregivers, those who are currently caregivers, those who will be caregivers, those who will need caregivers."

–Rosalynn Carter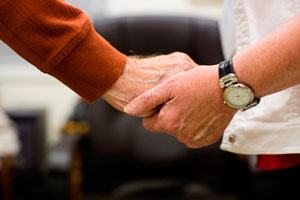 The Family Caregiver Support Program of the High Country Area Agency on Aging partners directly with the High Country Caregiver Foundation to provide an expansion of respite and supportive services for caregivers. Our goal is to provide caregivers with the needed support to reduce depression, anxiety, and stress and enable them to provide care longer, thereby avoiding or delaying the need for costly institutional care.
Who is a caregiver?
A caregiver can be defined numerous ways. In general we define a caregiver as anyone providing care and support to a loved one on a continual basis. You are a caregiver if you:
Provide personal care such as toileting, bathing, dressing, assist with eating, or ambulation
Help with shopping, medical appointments, finances, housework and home repairs
Seek information and assistance in acquiring services for your loved one
Help your loved one manage healthcare, appointments, and coordinating services while you are living an hour or more away
Oversee the care of your loved one while they reside in a facility
Family caregiver support program services
Respite services
Respite is typically defined as a short period of rest or relief from something difficult or unpleasant. Respite for caregivers can take on many forms with the ultimate goal of helping to share in the responsibility of caregiving and providing support. Utilizing respite care prior to becoming exhausted, isolated, or overwhelmed is ideal and the simple anticipation of relief can greatly reduce stress and anxiety.
The Respite Voucher program is the primary source of caregiver support provided by the High Country Caregiver Foundation. The Foundation offers caregivers a $500 respite vouchers to spend as directed by the caregiver with an approved in-home, adult day, or institutional care service provider. You can begin the respite voucher process by filling out an application.
Support groups and additional services
RAPP: Relatives as Parents Program
The High Country RAPP program is a support system for grandparents raising grandchildren and other relatives who have taken on the responsibility of surrogate parenting. The primary goal of the program is to build a social network for kinship caregivers, who often lack support, services, and companionship. The RAPP program holds monthly events for both parents and children as well as additional respite and supportive assistance.
Support Groups
Caregiver support groups are a wonderful way for caregivers to provide support for one another. Our support groups are offered throughout the region and in various settings in order to meet the needs of the group. Regional support group times and locations can be found on our events calendar.
Day Break
Day Break utilizes a social model to implement a group respite program for caregivers and their care recipient. The model is intended to provide care recipients with opportunities to enjoy social and recreational activities in a safe and secure environment. You can find Day Break times and locations on our events calendar.
Workforce Education and Support – "Finding the Balance"
Caregiving affects all aspects of a person life and often leads to many challenges in the workplace. Many caregivers are forced to quit their jobs, reduce their hours, experience high absenteeism and forfeit career ambitions. Their income drops, their health suffers, and their stress levels rise. Employers are oftentimes at a loss when it comes to helping employees with elder care issues. The High Country Area Agency on Aging and High Country Caregiver Foundation are here to help by offering the "Finding the Balance" educational and support program. We can offer resources to assist employees and help them to cope with the stress that comes with caring for relatives. Work site trainings can address Issues such as: Caregiver stress, conflict resolution, dealing with change, balancing work and family, compassion fatigue, improving family communication, understanding Medicare and Medicaid, community resources, getting your affairs in order, legal issues of interest to seniors and caregivers, kinship caregiving and caring for the caregiver.
Employers that effectively manage elder care and work issues, reduce turnover and avoid costly absences due to elder care conflicts, minimize losses in productivity that result from distractions at work and stress-related health problems, control the cost of healthcare premiums by preventing stress-related injuries or illnesses, and improve job satisfaction by enhancing communication and understanding between supervisors and co-workers.
Faith Based Services
Those in the midst of their caregiving journey, both the caregivers and those needing to be cared for, often feel cut off from their faith communities at the very time when they most need support. In order to address this need, the High Country Caregiver Foundation has developed a Faith Based Community Support Program to assist faith communities in the support for individuals and families dealing with caregiving issues. In addition, the program is dedicated to providing public awareness, advocacy, education and support to the region's faith-based communities regarding family and kinship caregiving.
Additional Caregiver Resources
For additional information on any of the Family Caregiver Support Program services, contact Brenda Reece at 828-265-5434 ext. 128 or breece@regiond.org, or visit www.highcountrycaregiverfoundation.org.