High Country Falls Prevention Coalition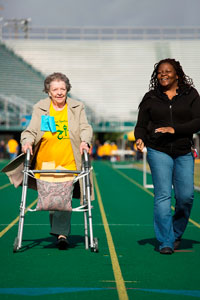 Falls are not an inevitable aspect of aging. However falls occur at an alarming rate, impacting one-third of Americans aged 65+ each year. Falls are the leading cause of fatal and non-fatal injuries among older Americans. Falls threaten safety, independence and generate enormous economic and personal costs.
The High Country Falls Coalition believes that together we can greatly reduce the impact of falls in our communities through providing resources for awareness, education, physical activity, and clinical-community partnerships.
Our coalition is built on the foundation of community collaboration and is comprised of dedicated community agencies, clinical practitioners, nurses, care managers, educators and volunteers. Our work consists of the following:
In the falls prevention plan of care you will find information and assistance with the following:
How to overcome the fear of falling
Home Safety Assessment
Fall Prevention Programs in our Region
Where to Exercise
Information of Personal Emergency Response System
Community outreach and education
Community screening and referrals
Referrals to appropriate services
Care transitions
Continuation of care
Rehabilitation support
Family support
Take control of your future: Six easy and important steps to prevent a fall
Find an enjoyable exercise program that focuses on strength, balance, and flexibility. We can help you find a program in your community that meets your needs and schedule. Balance focused programs such as tai chi are wonderful for fall prevention.
Talk to your health care provider and ask for an assessment of your risk of falling. Be sure to share your history of recent falls and any concerns or fears you would like to address.
Regularly review your medications with your doctor or pharmacist. Make sure you are taking all medications as prescribed and none of your prescriptions have side effects that are increasing your risk of falls.
Get your vision and hearing checked annually and update your eyeglasses or contacts when you have vision changes. Your eyes and ears are essential for keeping you safe and alert.
Keep your home safe. Remove tripping hazards, increase lighting, make walk ways safe and install grab bars.
Talk to your loved ones. Make them aware of you concerns and how they can help. Falls affects us all!
For more information on the High Country Falls Coalition and Falls Prevention programs and services, contact Amber Chapman at 828-265-5434 ext. 113 or achapman@hccog.org.